Regulation due to Covid 19 at HERE AHEAD and on Campus
Your health and safety as well as your study foundation are important to us. Please find the latest information on our regulations here.
Current regulations in the City of Bremen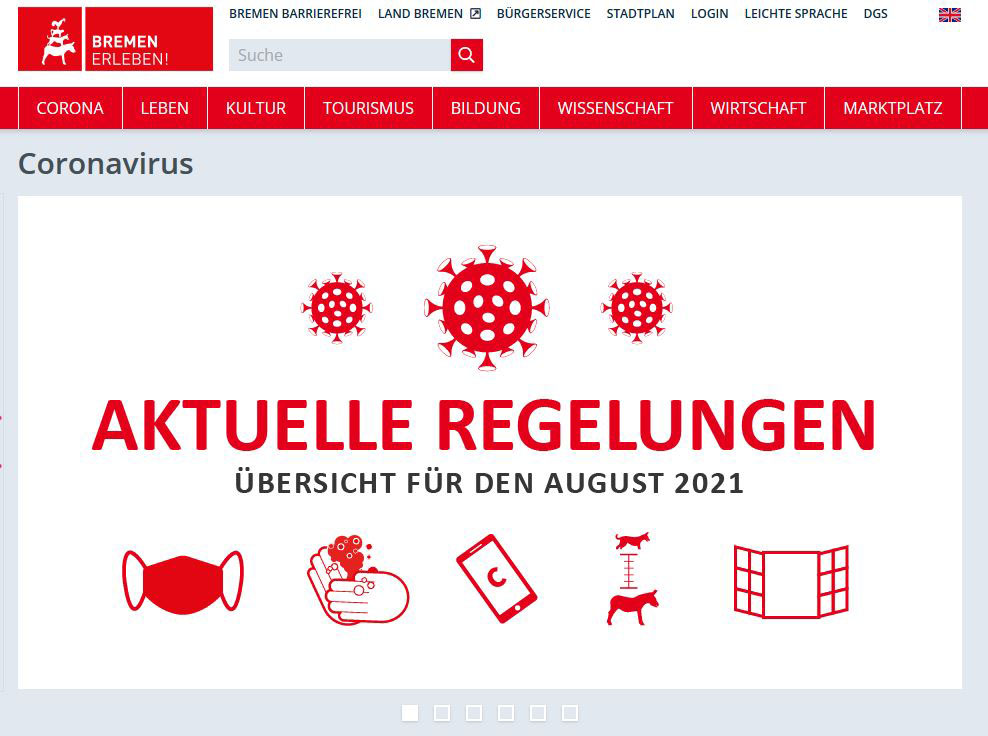 The current COVID 19 regulations are published on www.bremen.de/corona (in German only).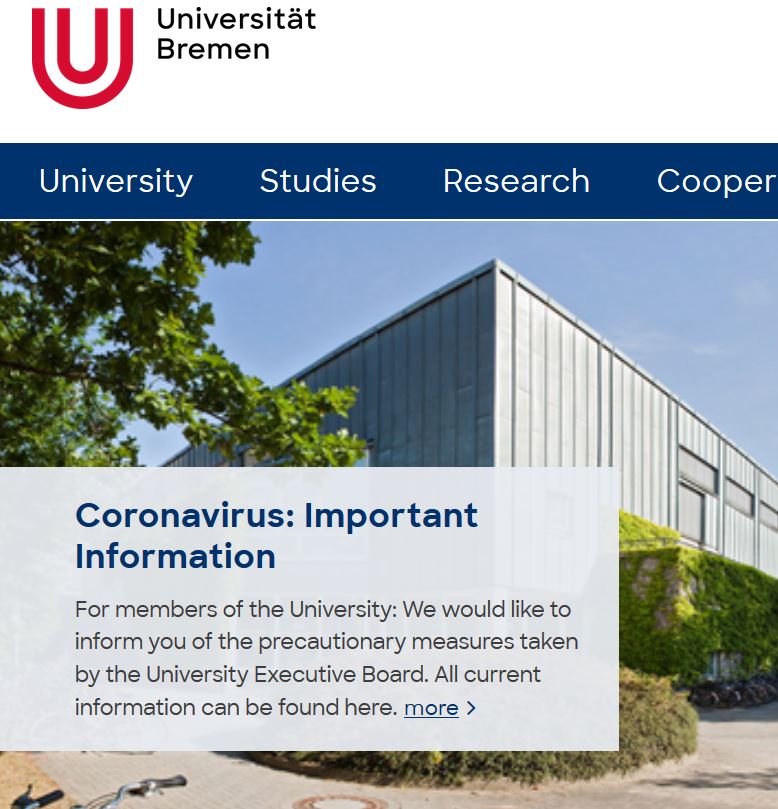 You'll find the latest news on regulations due to Covid 19 on the website of the University of Bremen
© Universität Bremen
Academy HERE AHEAD located on University Campus
Our Academy is located on the Campus of the University of Bremen. Therefore we follow the rules of the University of Bremen. On the website www.uni-bremen.de/en/coronavirus the Uni publishes the latest information on how you can move around campus, where to wear a mask and how to behave.
In case you have a personal appointment
Currently, it is mandtory to wear a mask within our building. Please, also sanitize your hands when entering the building. You'll find a dispenser in our foyer. Furthermore, we like to ask you to sign in the displayed lists. This enables us to contact you in case of Corona cases as fast as possible.
Robert Koch Institute (RKI)
The Robert Koch Institute is the government's central scientific institution in the field of biomedicine. The RKI gives out recommendations on how to tread the pandamic on a regular basis. It's overall task ist to safeguard public health in Germany.
Follow the RKI's latest information here
We act according to these regulations.
Free rapid antigen test
Currently, the Bundesregierung (German government) offers free rapid antigen tests. Everybody over the age of 7 and with a permanent address in Germany is allowed to get the test once a week. There are eight test centers in Bremen. Please book your ticket online. Note that by booking the ticket you have a binding appointment.
Our Onlineprogram

We like to stay in touch!
As soon as we all became aware of the pandemic, we extanded our online program. Currently we offer:
language courses
seminars for study preparation
mentoring
counselling
further seminars to be prepared for visiting a university in Germany.
Please do not hesitate to contact us for any questions or in need of counselling and support. You'll find our contact date here.
Language courses online and in class
Our language courses usually take place in classes. That means, one course is a fixed group.
During lock-down, our language courses take place online. In addition to that you participate in online meetings with your tutor as well as in the well-favored "Klönschnack"-meetings (plattdeutsch/Low-German for conversation), in which the group meets with us and talks about a given topic or just use the chance to practice your German.
If possible, we will offer courses in small groups again. We'll keep you informed!